Farrar Corporation operates an ISO 9001 certified foundry located in Norwich, Kansas, offering a range of weights and sizes of quality ductile iron castings.
Outfitted with Automated Molding Technology
Our foundry utilizes Robert Sinto automated horizontal molding machines exclusively. We have three production lines in total: two are set up to produce 20″ x 24" molds, while the third is designed to produce smaller 14″ x 19″ molds.
Streamlined Mold Handling for Optimum Casting Quality
Our mold handling systems are engineered to produce maximum casting quality while minimizing the production of scrap material. Rather than utilizing conventional carts that roll over sand covered tracks, our molds are suspended from the ground on gondolas that avoid the bumping and jostling effects associated with conventional mold handling systems.
Innovative Mold Weighting System for Maximum Casting Consistency
Our flexible weight system offers vastly improved manufacturing quality when compared to traditional flat weights used by most foundries. Conventional flat weights end up applying an uneven distribution of weight over the top of the mold. This can cause the mold to crush in some areas while forcing metal to run out in other sections of the mold.
Our molding system eliminates those production issues by applying uniform pressure to the top of the mold and puts the weight where it is needed.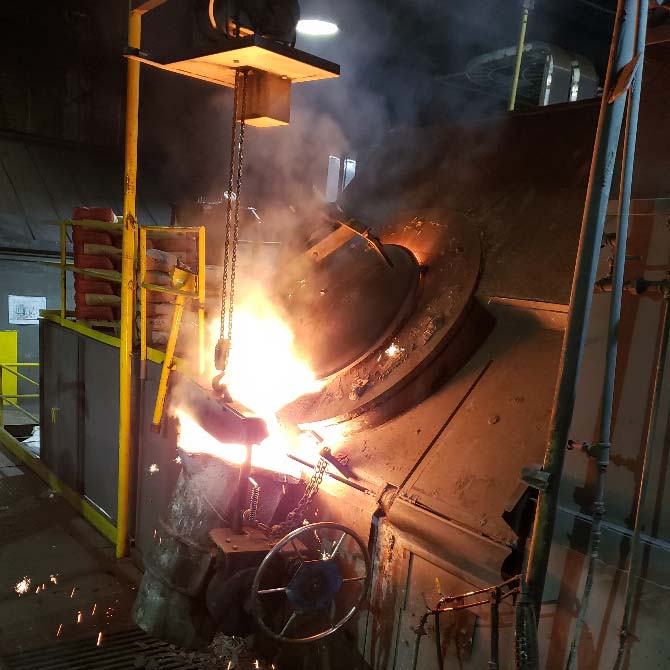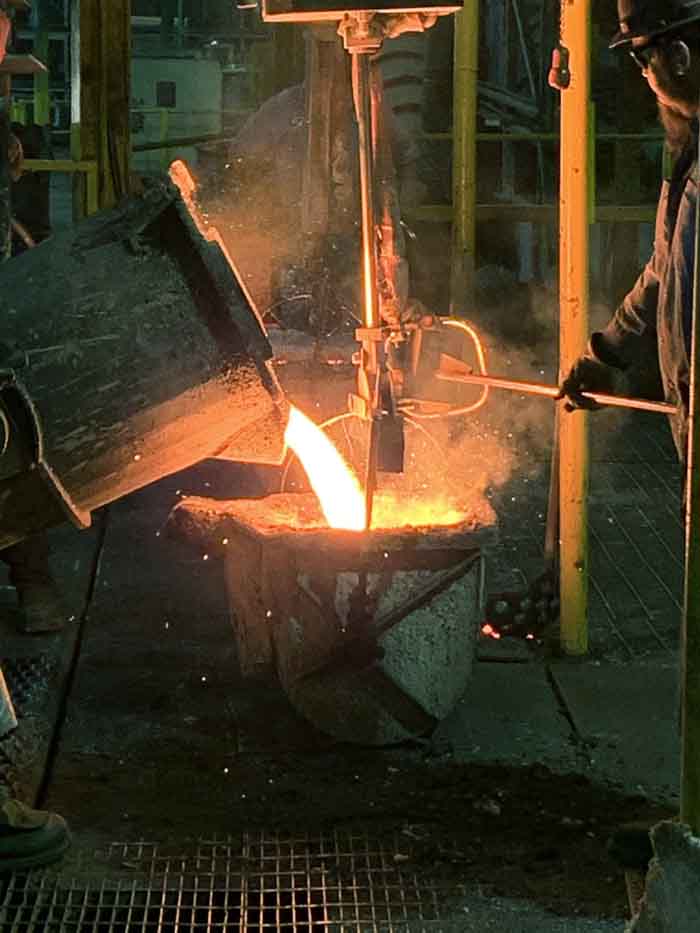 Melting
2 – 2500 KW Inductotherm Furnaces (10,775 lbs/hour melt rate)
Molding
2 – 20" x 24" Robert Sintos (with 124 position mold handling systems)
1 – 14" x 19" Robert Sintos (with 164 position mold handling system)
Core Making
1 – IMF 3100 Iso-Cure machine
1 – B&P CB-15 Iso-Cure machine
1 – Shallco U-180 Shell Core machine
1 – Dependable Shell Core machine
Cleaning Room
3- Robert Sintos Barinder CNC Grinders
3 – SNAG Grinders