Our Precision CNC Machining Shops
Farrar Corporation operates a precision CNC machine facility in conjunction with our ISO-certified pattern shop and foundry. Outfitted with CNC machining centers from DMG-Mori, Okuma and Haas, our machine shop allows us to deliver quality finished machined iron castings from prototype to production.
ISO Certified Machining Solutions for Ductile Iron Castings & Pattern-Making
Our fully-equipped CNC machine shops are streamlined for optimum production of the exact size and weight of castings we produce for OEMs and other large-run manufacturers. That equates to maximum production efficiency for your products and minimum turnaround times on custom patterns and castings. Our CNC machining centers are located in a separate facility from our foundry to create a controlled environment for our tight-tolerance machining centers.
We're the Experts in Precision Machined Patterns & Ductile Iron Castings
Our ISO 9001 certified machine shop is backed by the same industry-leading quality assurance process as our pattern shop and foundry. We also perform contract machining operations for larger customer-provided castings and molded materials that we do not pour.
With over 80 years of expertise in the pattern-making and machining industry, we have found that many of our customers who have their own internal machining capabilities prefer for Farrar Corporation to handle the full or partial CNC machining of their castings due to our close-tolerance capabilities and guaranteed quality results.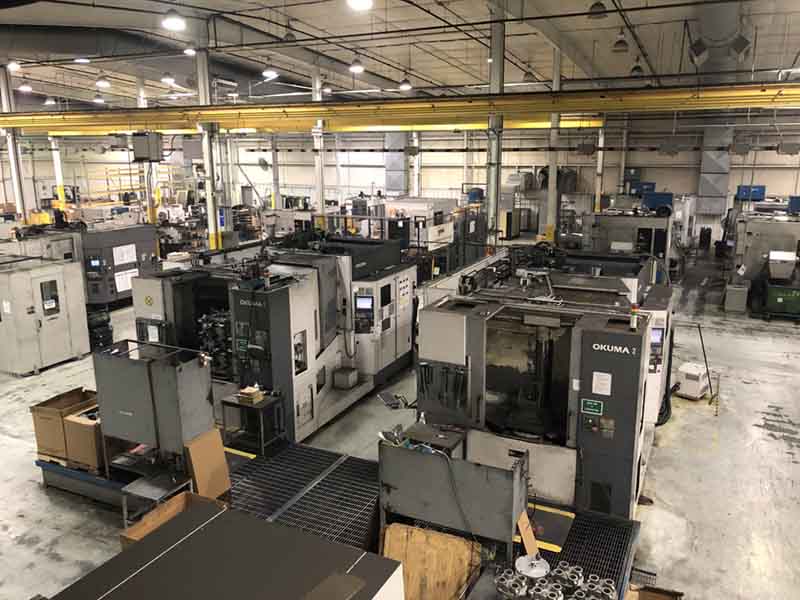 CNC Machine Shop Equipment List
CNC Horizontal and Vertical Mills
2 – Okuma 4VAE
1 – Haas VF-4
2 – Okuma MA600 (40" x 40" x 36")
2 – Mori Seiki SH6330/SH633 (33" x 33" x 30")
3 – Mori Seiki NH4000 (22" x 22" x 25")
4 – Mori Seiki NH5000 (29" x 29" x 33")
2 – DMG Mori NTX2000/1500SZM (5 axis; 10" chuck; live tooling)
1 – Mori Seiki ZT2500 (2 axis; 10" chuck; live tooling)
1 – Mori Seiki CL25 (2 axis; 10" chuck)
1 – Hardinge GS250 (2 axis; 10" chuck)
2 – Okuma L1420 (2 axis; 10" chuck)
1 – Okuma LC40 (2 axis; 12" chuck; live tooling)
1 – Okuma LB45 (2 axis; 25" chuck; live tooling)
6 – 6, 6A, 7, 7A Fellows Gear Shapers
1 – Barber Coleman Gear Hob
1 – Horizontal Hydraulic Broach